---
Some information on the WFamily.org web site is made available in Portable Document Format (PDF). Adobe Acrobat Reader is an application program that allows you to view, navigate and print documents stored in PDF.
Read The New Testament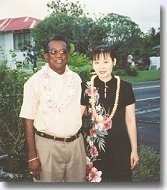 Dr. Sam and Atsuki Masilamoney
Dear Friends,
When we look back upon our history, we can see civilization rise and fall based upon the strength of family and morality. In Hawaii we see a high rate of divorce, drugs, alcohol abuse, teenage promiscuity and high number of single parent families. But the good news is that God has the power to renew our families and our communities. The future well being of our community is based on what kind of people we want to be and what kind of community we want to have. Please join us in this ministry.

Rev. Sam and Atsuki Masilamoney
Statement of Purpose
The Waikoloa Family Ministries, Dr. Sam and Atsuki Masilamoney have a mission in Waikoloa. With a heart to love and hands to serve they have committed their life to minister to the people of Waikoloa. Dr. Sam has been in the ministry for 30 years and was the senior pastor at the Waikoloa Community Church for the past five years.
Waikoloa Family Ministries, Waikoloa Village, Hawaii
68-1943 Puu Nui St., P.O. Box 384565, Waikoloa,HI 96738 Ph: (808) 883-6210 Cell (808) 640-0131